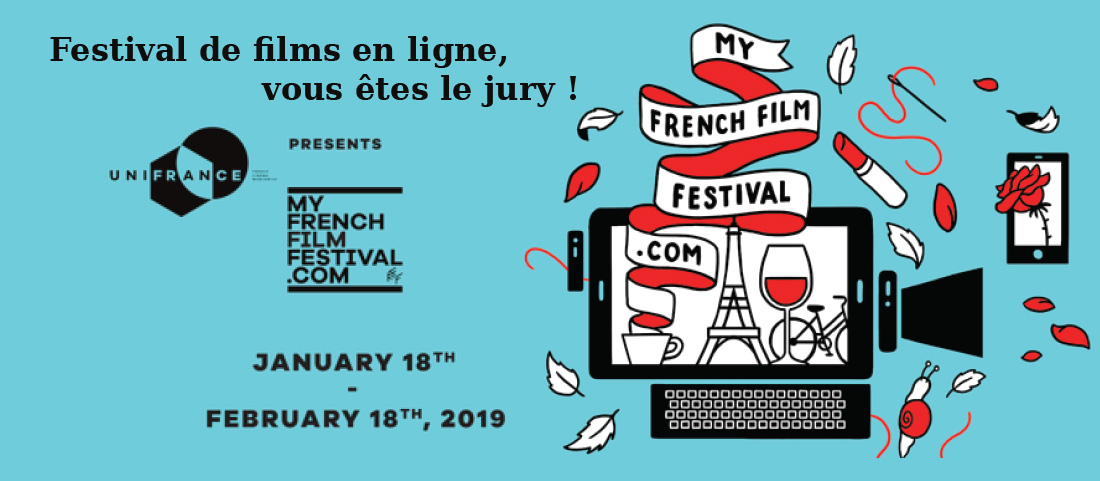 18/01/2019 - 18/02/2019 | All day
From January 18 to February 18, 2019, film lovers from all over the world have access to movies selected for the 9th edition of the first world festival of French online Cinema, created by UniFrance in 2010.

MyFrenchFilmFestival has become the annual meeting place for filmlovers around the world with French and "francophone" cinema. This online festival showcases during 1 month 10 feature films and 10 short films in competition, as well as, off competition, several long & short films, series and new cinema writings.
This year, the films are available on 50 platforms around the world, subtitled in 11 languages: French, English, Spanish, Portuguese, Italian, German, Japanese, Russian, Polish, Korean and Traditional Chinese (new in 2019) .
The selection
The selection consists of French films, complemented by films from Belgium (in partnership with Wallonie-Bruxelles Images) and Canada (with Telefilm Canada).
It is organized in 6 themes mixing short and long features: What the F … rench!?, Family Business, Women at War, In your Face, Love "à la française". A 6th theme, "New Horizons", showcases new forms of writing with a virtual reality film, an interactive music video, as well as the first two episodes of the hit series Le Bureau des Légendes.
Like every year, two heritage films complete the selection, out of competition: Mauvais sang by Leos Carax and La Jetée by Chris Marker.
Terms of access to films
The films are available online on the dedicated platfrom MyFrenchFilmFestival.com and on 50 platforms around the world, including IFLIX for Laos.
Prices on MyFrenchFilmFestival.com are 1.99 € for a feature film or 7.99 € for the festival pack. All shorts are free of charge anywhere in the world.
The Awards
Everyone is invited to rate, comment and share the films. The long and the short films which get the highest score win the Lacoste Public Prize.
Two other prizes will be awarded: the Filmmakers' Prize, composed of a jury of foreign film-makers, and the International Press Prize, with 5 journalists.
The winning films, long and short, will be shown on Air France flights for 6 months.
br>
Location
Institut français du Laos