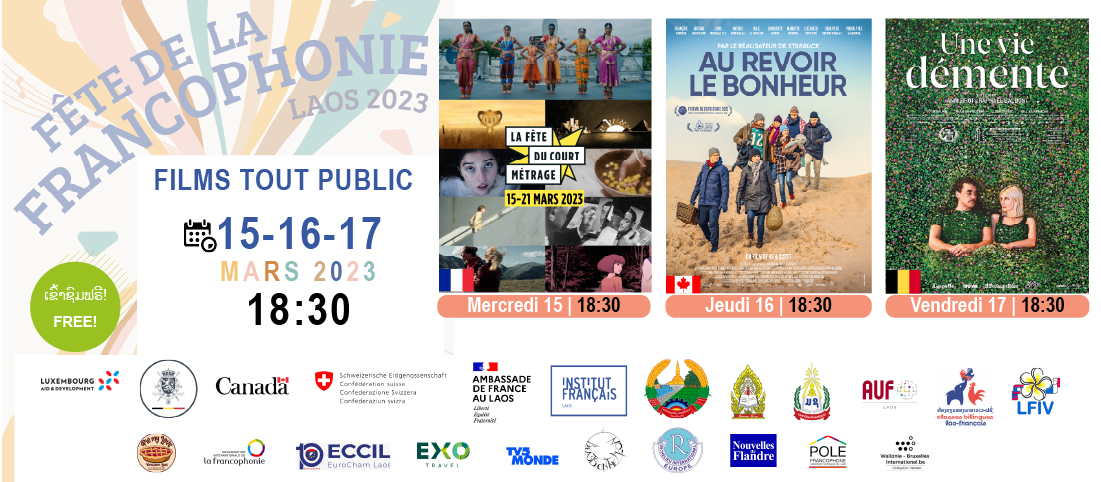 15/03/2023 - 17/03/2023 | 18 h 30 - 20 h 00
FÊTE DE LA FRANCOPHONIE
Films tout public – ຮູບເງົາເໝາະສຳລັບທຸກຄົນ
15-16-17/03/2023
18:30
Entrée gratuite / ເຂົ້າເບິ່ງຟຣີ / Free entry
Institut Français du Laos
Version française sous-titrée anglais / French version English subtitles
MERCREDI | ວັນພຸດ | Wednesday – 15/03/2023
Affranchies – Fête du court métrage 2023
• Bolide, Juliette Gilot, 17 min, 2021
• Un corp brulant, Lauriane Lagarde, 14 min, 2021
• A point, Aurélie Marpeaux, 20 min, 2021
• Les Roses et les bleus, Claudia Lopez Lucia, 22 min, 2021
• Je ne suis pas, Valentine Zhang, 4 min, 2021
• Beach Flags, Sarah Saidan, 13 min, 2014
JEUDI | ວັນພະຫັດ | THURSDAY – 16/03/2023
Au revoir le bonheur, Ken Scott, 1h47, 2023
Lors des funérailles de leur père, quatre frères que tout oppose promettent de mettre leurs différends de côté pour lui rendre un dernier hommage.
Accompagnés de leurs femmes et leurs nombreux enfants, ils se rendent à la maison d'été familiale pour faire leurs derniers adieux et
répandre les cendres de cet homme qui a été si important pour chacun d'eux. Lorsque Nicolas, le plus jeune frère, perd l'urne contenant les cendres de leur père, les conflits commencent.
Four brothers, opposite to each other, are in the Magdalen Islands to pay tribute to their deceased father where several problems arise.
Bande-annonce/ ຕົວຢ່າງໜັງ / Trailer: https://bit.ly/3mfoXv2
VENDREDI | ວັນສຸກ | FRIDAY – 17/03/2023
Une vie démente, Ann Sirot, Raphaël Balboni, 1h27, 2021
Alex et Noémie voudraient avoir un enfant. Leurs plans sont chamboulés quand la mère d'Alex, Suzanne, adopte un comportement de plus en plus farfelu.
Entre l'enfant désiré et l'enfant que Suzanne redevient, tout s'emmêle. C'est l'histoire d'un rodéo, la traversée agitée d'un couple qui découvre la parentalité à l'envers !
Alex and Noémie, in their thirties, would like to have a child. But their plans are turned upside down when Alex's mother, Suzanne, starts doing crazy stuff.
It's because she has contracted 'semantic dementia', a fatal neurodegenerative disease that affects her behavior.
She spends lavishly, pays nightly visits to her neighbors to eat sandwiches, makes herself a fake driver's license with glue and scissors.
Suzanne the mother goes to Suzanne the unmanageable-kid. A strange school of parenting for Noémie and Alex.
Bande-annonce/ ຕົວຢ່າງໜັງ / Trailer: https://bit.ly/3xZM7IC
br>
Location
Institut français du Laos