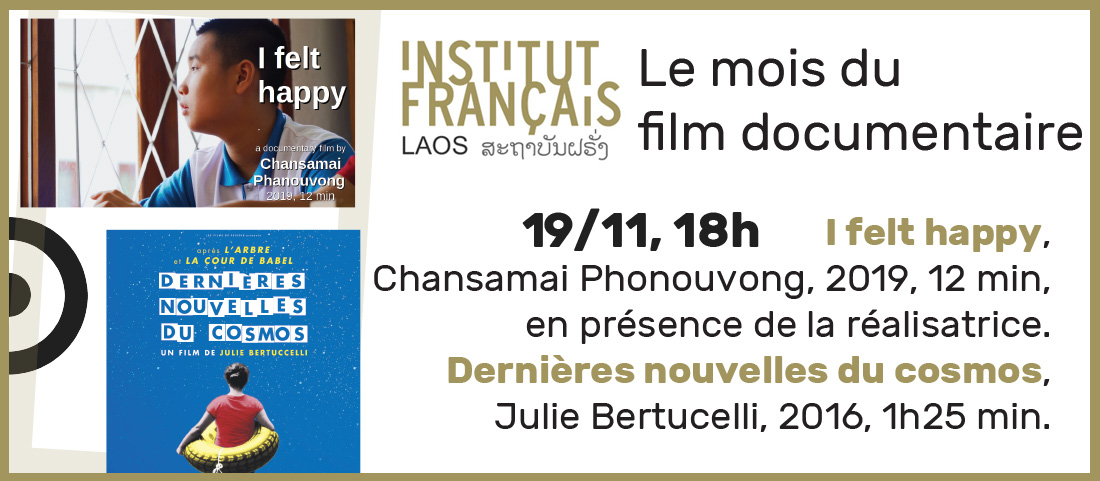 19/11/2019 | 18 h 00 - 19 h 45
I felt happy
Chansamai Phanouvong, 2019, 12 min
A woman speaks of her son's autism, and her fight for the acceptance of this spectrum disorder in Laos.
Chansamai started filmmaking in 2012. She likes to make films about local life, which is very instructive. Knowing a close relative with autism, she grew up with questions about behavioral disorders. She always found unfair the judgement of people who would call him "stupid" or "possessed".
Chansamai will present her documentary and answer questions.
Latest news from cosmos
Audience Award, 2016 Montreuil Documentary Film Festival, Best documentary Nominee at 2017 Cesar
At almost 30 years old, Hélène still looks like a teenager. She is the author of powerful texts with corrosive humor. She is part as she says of a "poorly calibrated lot, not coming anywhere". A visionary, her telepathic poetry thinks far and deep, she tells us about her world and ours. She accompanies a director who adapts her work, speaks with a mathematician,… Yet Helen can not speak or hold a pen and has never learned to read or write.
"An absorbing portrait of human creativity. Inspirational and informative… If ever there was a movie warning us not to judge a book by its cover, this is the one."—The Hollywood Reporter
br>
Location
Institut français du Laos