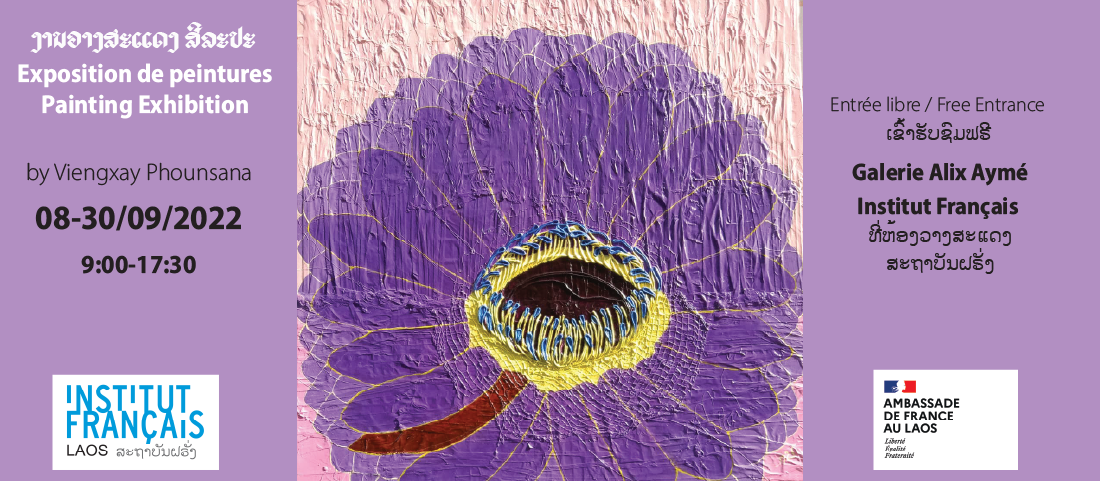 08/09/2022 - 30/09/2022 | 9 h 00 - 17 h 30
The French Institute is pleased to present an exhibition of paintings by Viengxay Phounsana. The exhibition is presented in the Alix Aymé Gallery of the French Institute, from 8 to 30 September 2022.
The abstract paintings, which represent another facet of the contemporary art scene in Laos, are exhibited in the beautiful space of the gallery: this exhibition highlights the talent of a unique artist from Laos.
The works are offered for sale; no commission is taken by the French Institute.
Welcome from 8 to 30 September 2022, Monday to Friday 9am to 5:30pm and Saturday 9am to 4pm, to the exhibition "Peinture by Viengxay Phounsana" at the Alix Aymé Gallery of the French Institute of Laos in Vientiane.
Mr Viengxay Phounsana
Mix media artist, Viengxay Phounsana was born in 1959 in Xiengkhuang Province.
In a recent interview he confessed. "People tell me that my work is too contemporary for Lao art". He claims that no particular artist influenced his eclectic technique. Instead Viengxay is driven to utilize and aggregate mixed materials available to him in Laos.
Viengxay Phounsana developed his mix media techniques during his time at Quebec university. On his return to Lao P.D.R he was closely involved with the National Institute of Fine Arts and the development of art in Laos. It was at that time that he introduced mixed media techniques to students, to further develop the concept of contemporary art in the country.
br>
Location
Institut français du Laos