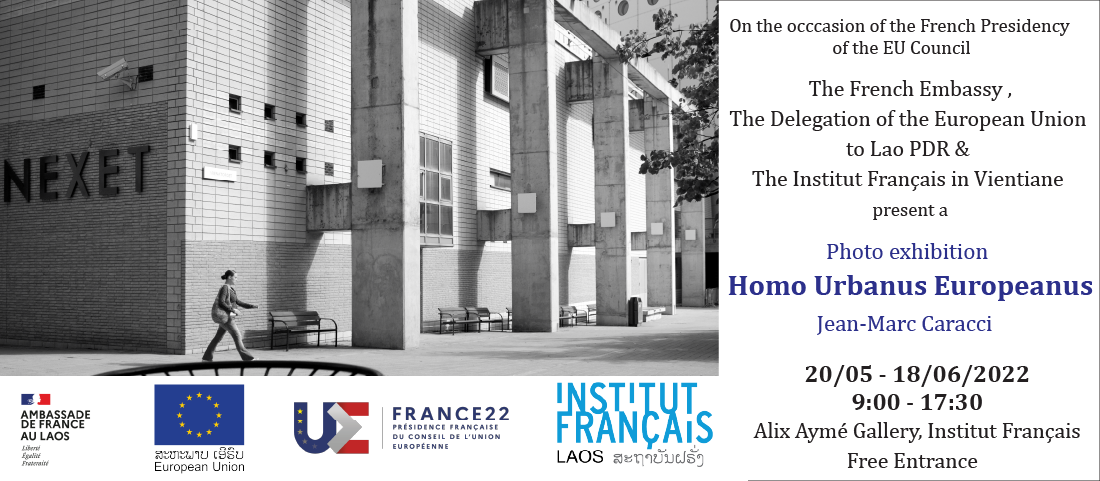 20/05/2022 - 18/06/2022 | 9 h 00 - 17 h 30
The Embassy of France, the Delegation of the European Union to Lao PDR and the Institut français du Laos are delighted to present an exhibition of photographs within the framework of the French Presidency of the European Union Council. The photo exhibition showcases 27 EU capitals and will be open to the public until18 June.
The exhibition of 27 European capitals reflects European diversity. It asks us "Who we are? What is Europe? Where does it start and where does it end "? The exhibition carries a "Yes to Europe" message.
The "Homo Urbanus Europeanus" exhibition showcases human characters in urban backgrounds. Its author, the artist-photographer Jean Marc Caracci, has captured urban landscapes in a similar way as an archaeologist observes, looks for, digs up, and tries to reconstruct primitive spaces. He observed the city inhabitants and their environment like a biologist studies a cell.
Each picture, by the accuracy of its framing and its crisp style, sounds like a hymn to the citizen. The featured characters walking, stopping, and weaving through the city, often lonely but no less proud and determined, do not show any kind of alienation.
As Caracci said, "the human presence, the silhouette captured with fineness, always in the right place and at the right time, gives the city an unexpected beauty and majesty."
br>
Location
Institut français du Laos