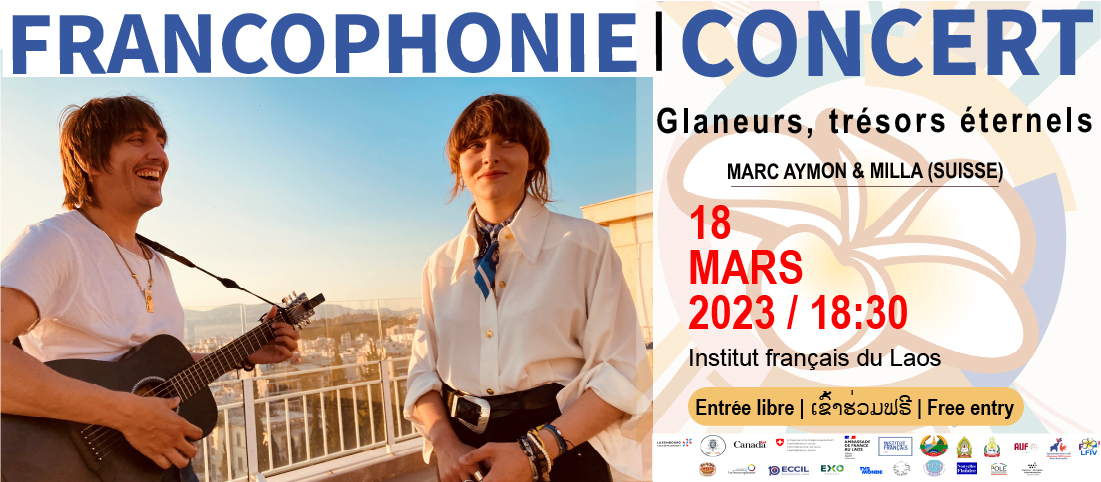 18/03/2023 | 18 h 30 - 20 h 00
Institut français is pleased to host, on the occasion of the Francophonie month, the project "Glaneurs, trésors éternels" (Gleaners, eternal treasures) by the Swiss singer and composer from Valais, Marc Aymon. Come and listen to this eternal Swiss treasures on Saturday 18th of March, 6:30 PM at Institut français, Free entry.
Accompanied on stage by the young and incredible singer Milla, the duo invites the public to discover treasures of the Swiss French-speaking heritage through songs and poems reinterpreted in a folk and modern way. Their personal compositions will also be presented on stage, in an intimate but yet dynamic way.
"Glaneurs, trésors éternels" is also a booklet, with CD and MP3, which brings together the Swiss artists Aliose, Pascal Auberson, Marc Aymon, Julie Berthollet, Michel Bühler, Carrousel, Henri Dès, Jérémie Kisling, Milla and François Vé who reinterpret 15 Swiss songs and poems that have touched their hearts.
br>
Location
Institut français du Laos