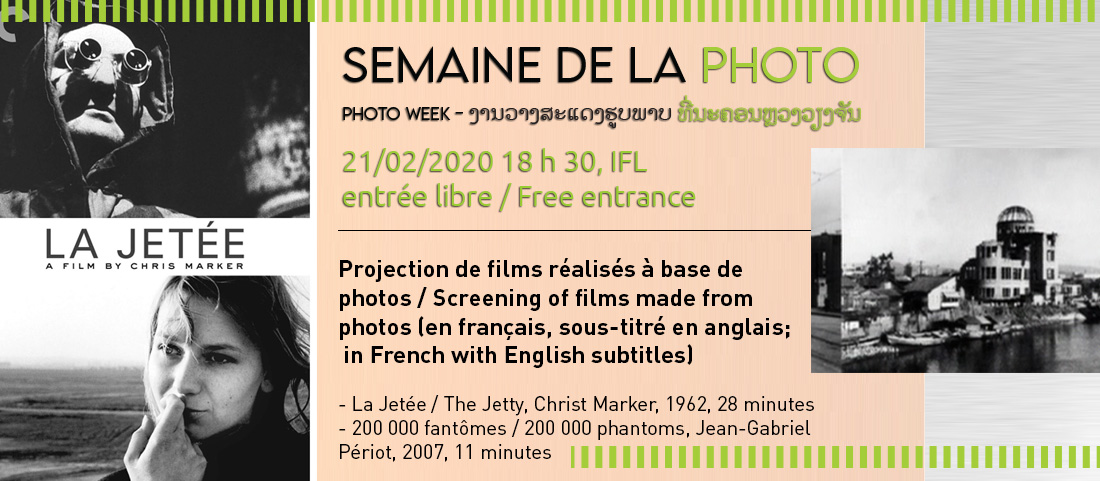 21/02/2020 | 18 h 30 - 22 h 00
Screening of films made from photos  (in French with English subtitles):
The Jetty, Chris Marker, 1962, 28 minutes: Experimental film, considered as a masterpiece by many reviewers and filmmakers, this film actually is, except a single moving shot, a slideshow of photographs in black ans white (a "photo-novel", as mentioned in the credit titles), narrated by a single person (in French with English subtitles).
200 000 phantoms, Jean-Gabriel Périot, 2007, 11 minutes: The A-Bomb Dome is the name of an ancient Japanese business centre which became the symbol of the destruction of Hiroshima by the American atomic bomb in 1945. Built in 1915, it is the only building which remained standing in the close vicinity of the explosion site. The movie is a moving mosaic of more than 1 000 photos gravitating  around the Dome (no dialogue).
br>
Location
Institut français du Laos