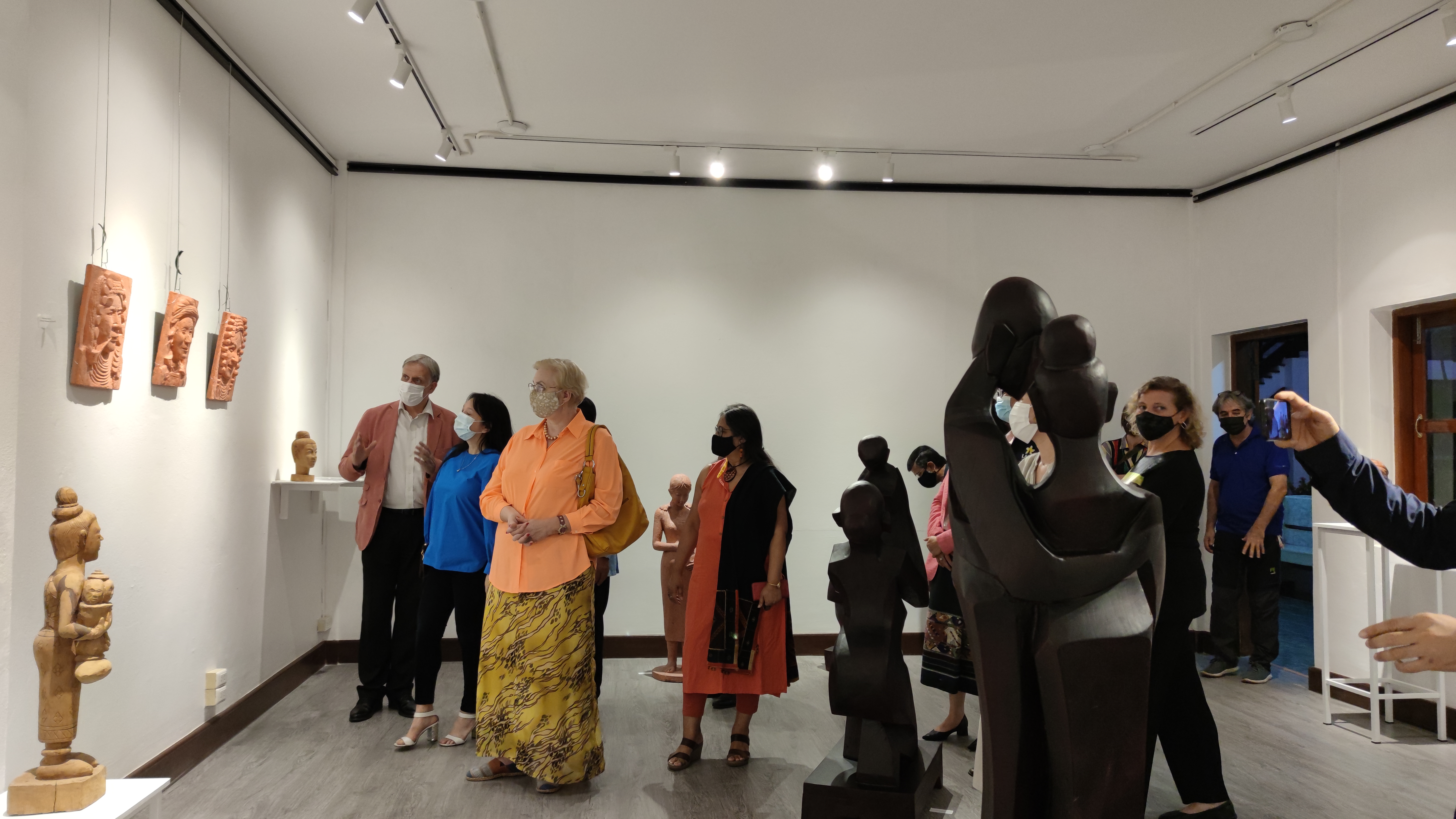 01/03/2022 - 21/03/2022 | 9 h 00 - 17 h 00
A splendid exhibition of SCULPTURES by Lao artists at the French Institute
Monday, 28 February 2022 at 6:00 pm,
Gallery Alix Aymé, Institut français (French Institute, Vientiane)
The Institut français is presenting an exhibition of sculptures by Lao artists from 1 to 21 March, 2022 in its gallery Alix Aymé.
The show was officially opened by the Ambassador of France, H.E. Ms Siv-Leng Chhuor, and Dr. Khamsouk Keovonsay, Director of the National Institute of Fine Arts on Monday, 28 February 2022.
This is the second exhibition organized in the new Alix Aymé gallery of the Institute. The collective show, gathering 30 works made by professors and students of the National Institute of Fine Arts, is in a way a celebration of sculpture by Lao artists.
What stands out in this collection of sculptures is the diversity of materials and the mastery of the artists: statues in wood, ceramic, fiberglass and cement, both modern and traditional. The exhibition highlights the talent, authenticity and great dexterity of the sculptors of Laos.
The majority of the works are female representations showing various aspects of the life of a Lao woman, from motherhood to work, from dance to prayer. They are displayed in the largest space, as a tribute to women.
The Ambassador said that these last two years have not been conducive to cultural events because of the pandemic. Artists can finally show their creations, and the Ambassador said that she was delighted that the French Institute, as an active cultural centre, was participating in the resurgence of the art scene.
Here is the list of sculptors who exhibit their works: Dr. Maysing Xhanboutdy, ex-Director of NIFA and head of Lao Fine Art Association, Mr. Bounpone Inthavong, Mr. Khampan Vilaphanh, Mr. Nernthong Inthavong, Mr. Ningnoong, Mr. Nouthuk Sisavanh, Mr. Sisomsay Khammanivongsa, Mr. Sithong Siveunxay, Mr. Souvankham Vongxayyalao, Ms. Masa Phattana and students from the Sculpture Department.
All the guests enjoyed the exhibition and praised the talent of the artists. Proceeds of the sale of sculptures will entirely go to the artists. The exhibition is on view till 21st of March, free entrance, all are welcome.
From Monday to Friday from 9 a.m. to 5:30 p.m. and Saturday from 9 a.m. to 4 p.m.
br>
Location
Institut français du Laos