07/09/2019 | 10 h 00 - 16 h 00
The Institut français du Laos (French Institute) is organizing an Open Day (Fête de la Rentrée) on Saturday, September 7, 2019 from 10am to 4pm.
It is open to all. Among the many activities on offer, there will be free taster classes in French and also in Lao and English, the three languages taught at the IFL. Children will be able to listen to storytelling in French at 10am at the médiathèque, watch animation films at 11am at the auditorium and participate in a molky competition at 2.30pm. Free demo yoga classes will take place at 11am and 2pm, dance demo at 12.30pm, and a pétanque competition will be organized at 2.30pm. A French movie with English subtitles, Le sens de la fête (C'est la vie in English!), will be screened at 3.30pm. At the médiathèque, the online French culture platform Culturethèque will be presented. A sale of books and a tombola will also be included. Throughout the day, partners and friends of the IFL will sell handicraft, local products, jewellery and propose activities to visitors (20 stalls). Lastly, the day will be the occasion for the launch of "Bonjour Laos", a new French-speaking radio programme by Lao Youth Radio 90 FM at 2pm. Welcome to the Fête de rentrée!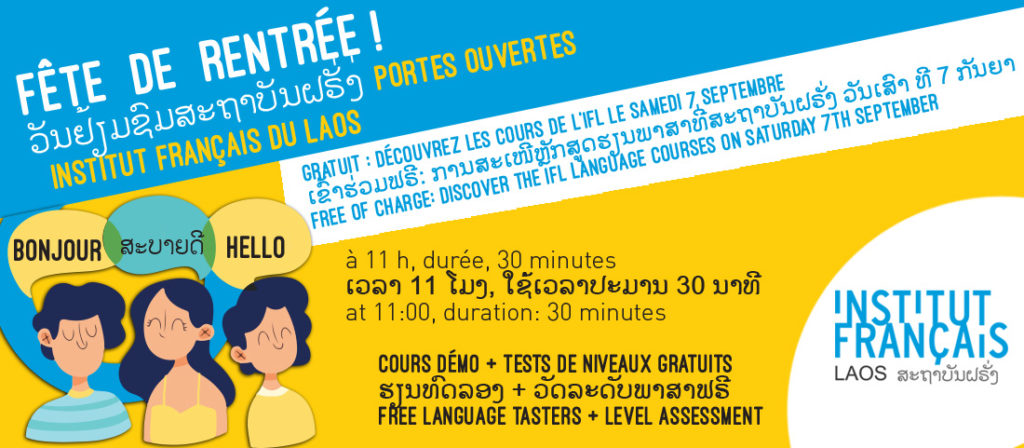 French: room B4

Lao: room B2

With or without prior registration.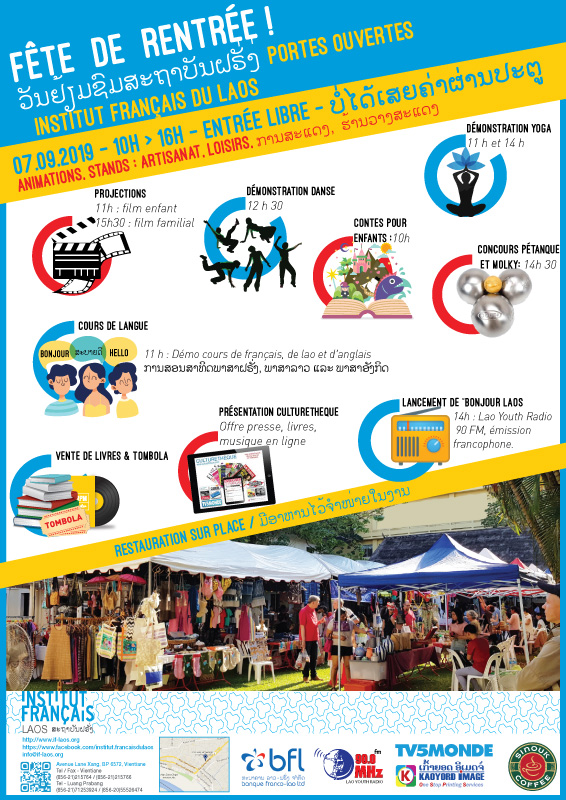 br>
Location
Institut français du Laos