Mois du documentaire : 21/11/2019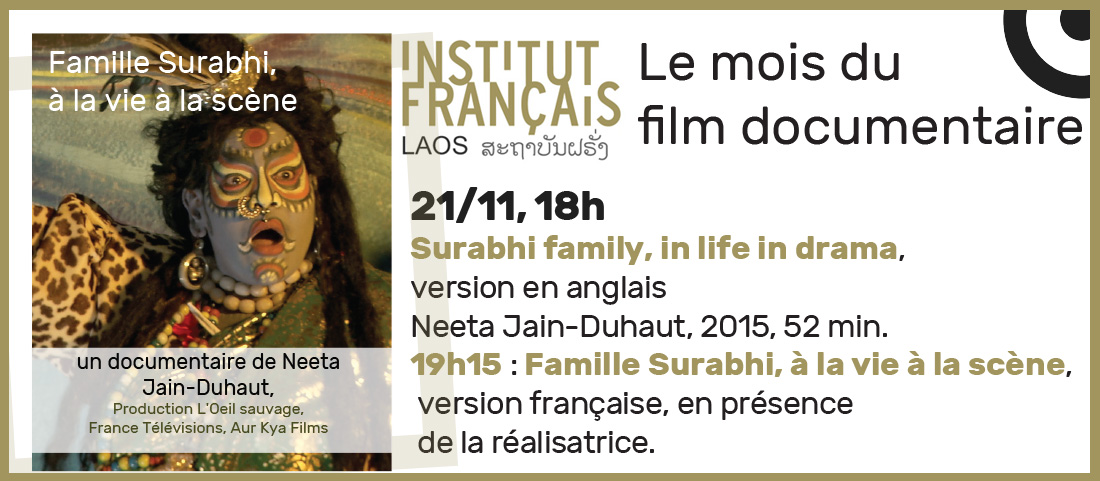 21/11/2019 | 18 h 00 - 20 h 30
Surabhi family, in life in drama
written and directed by Neeta Jain Duhaut
2014, 52 minutes, Telugu, French, English,
Production l'oeil sauvage, france televisions, aur kya films
In a big modern city of India, a family of actors has kept alive their ancestral art of traditional theatre for the past 128 years. The sixty-five members of Surabhi family perform dramas recounting old Indian legends, from the Mahabharata to the pranks of popular theatre. Majestic decors, abundance of colours, a profusion of gold and ornaments constitute this absolute show where song, dance, music and special effects create the power of the supernatural. The documentary submerges into the precarious daily life of the troupe, living in synchrony with their theatre: life and stage, all is intermingled at Surabhi.
One day arrives an extraordinary announcement, an invitation to present their dramas in France! It's the first time that Surabhi family will leave India, to go and perform at "Passages" international festival.
"This film is simply delicious. Jubilant, funny, philosophical, educational, wonderful! These people are my family, they are us, in bigger, stronger, braver, more innocent, more real, more learned. I hope they are well and will manage to hold against winds and tides. In fact, it is not the winds and the tides that hurt us. On the contrary. It is the dams and droughts of our times that threaten them. " – ARIANE MNOUCHKINE
Festivals :
Mumbai International film festival, India, 2018
Festival Nova Luz da India, Lisboa, Portugal, 2017.
Etonnants voyageurs, Saint-Malo, France, 2016
Portraits de vie Annonay, France, 2015
Krishnakriti Festival, Hyderabad, India, 2015
Telecast :France 5, Oct-Nov 2016
Neeta Jain-Duhaut

Born and brought up in Delhi, Neeta Jain-Duhaut has written and directed several documentaries and short films that were selected in international film festivals and broadcast by television channels in France, Europe and North America.

Her themes revolve around various aspects of Indian culture such as absolute renunciation (Digambar, Skyclad, 1992), love in arranged marriages (The Indian Knot, 2004) or the vanishing traditional arts and crafts such as the glass-bangle seller (O Lady, 1997) or the struggle for survival of an ancestral theatre (Surabhi Family, in life in drama, 2014). Through a personal and artistic approach, Neeta opens windows from the inside to invite the viewer to share slices of lives.

Neeta holds Masters in English literature and linguistics from the Universities of Delhi and Paris La Sorbonne. She has translated several books and articles, as well as films in Hindi, French and English. Passionate about inter-cultural dialogue, she worked as coordinator for a number of artistic projects between France and India.

Neeta Jain-Duhaut has lived in France, the United Kingdom, Spain and has recently settled in Vientiane.
br>
Location
Institut français du Laos