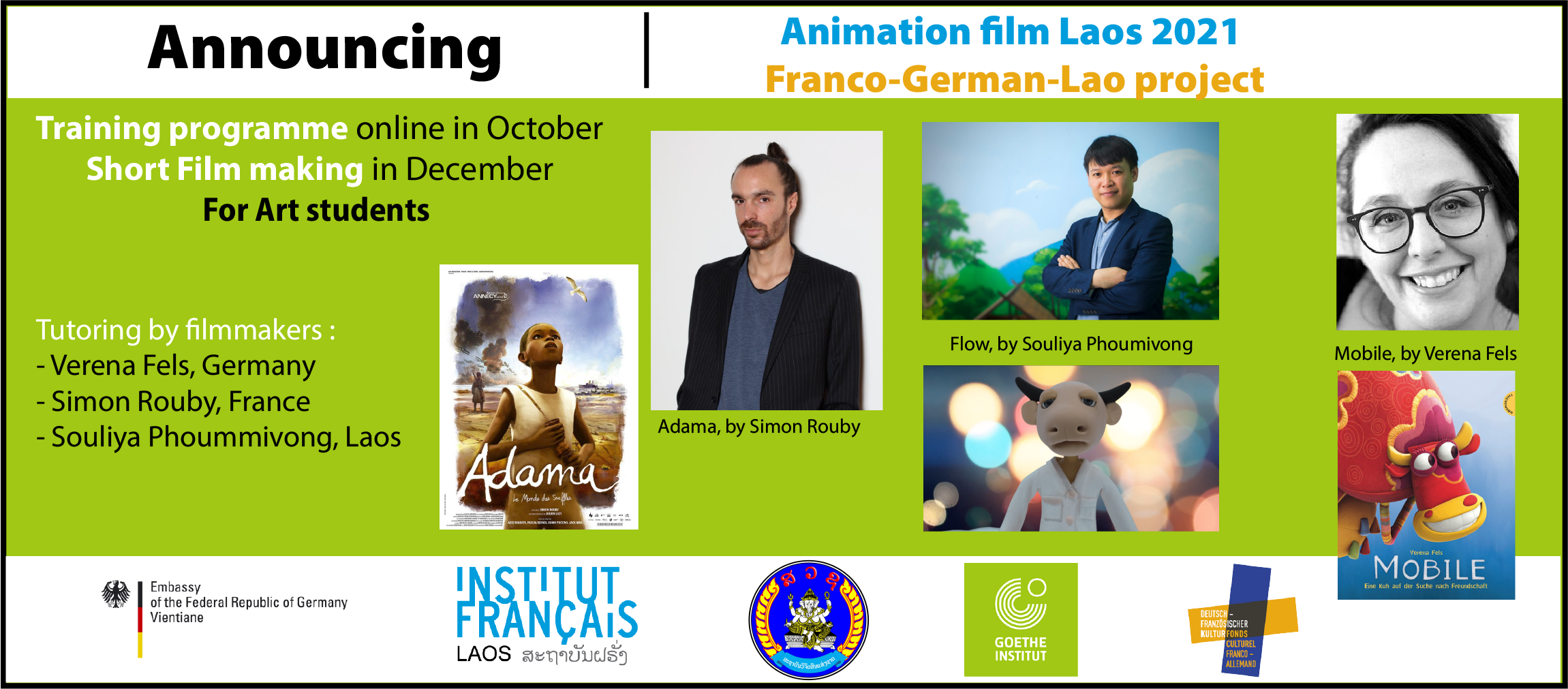 15/10/2021 - 17/12/2021 | 15 h 00 - 17 h 00
The French Institute and the German Embassy in Vientiane / Goethe-Institut Bangkok are organizing a joint animation film project in 2021. The project aims to make a contribution towards the emergence of an animation film sector in Laos and to support the country's budding film production. The workshops will be held initially online from October 18, and will terminate on December 17, 2021.
During the two phases of the project, the participants will be tutored by a French, a German and a Lao animation filmmaker. Mr. Simon Rouby from Paris studied art and animation at the famous Ecole des Gobelins in Paris and at Calarts in Los Angeles. He made a few short films and a long animation film "ADAMA" in 2015, which won many awards worldwide. Ms. Verena Fels is a German animation filmmaker, who studied at the reputed Filmakademie Baden-Württemberg. Her first film MOBILE (2010) was screened at over 300 film festivals in the world and won many prizes. Mr. Souliya Phoumivong, head of the department of digital creations at the National Institute of Fine Arts in Vientiane, and creator of a number of short animation films, is the Lao filmmaker who will supervise the workshops.
A group of 15 art students from the National Institute of Fine Arts were selected for this project, according to their qualification and liking for animation film production.
The animation film project consists of two project phases. The first project phase will be a two-week digital introduction workshop from October 18 to November 1st, 2021. During this training, the three filmmakers from France, Germany and Laos will teach the students how to conceive and produce a short animation film. Another well-known Lao filmmaker, Mr. Anysay Keola, will introduce them to filmmaking in South-East Asia; a presentation of the history of world cinema will be made by Mr. Jean-Manuel Duhaut, executive director of the French Institute. During the second project phase that is planned from November 29 to December 17, 2021, the filmmakers will guide and support the participants with the filming and editing of their own short animation films. At the end of the project, a screening in the cinema hall of the Institut Francais will showcase the productions.
The workshops will be inaugurated online by H.E. Ms. Siv-Leng Chhuor, Ambassador of France, and Ms. Annette Knohbloch, Ambassador of Germany, as well as Ms. Maren Niemeyer, director Goethe-Institut Bangkok.
br>
Emplacement
Institut français du Laos
http://www.if-laos.org
info@if-laos.org
Tel : (856-21)215764
Fax : (856-21)215766