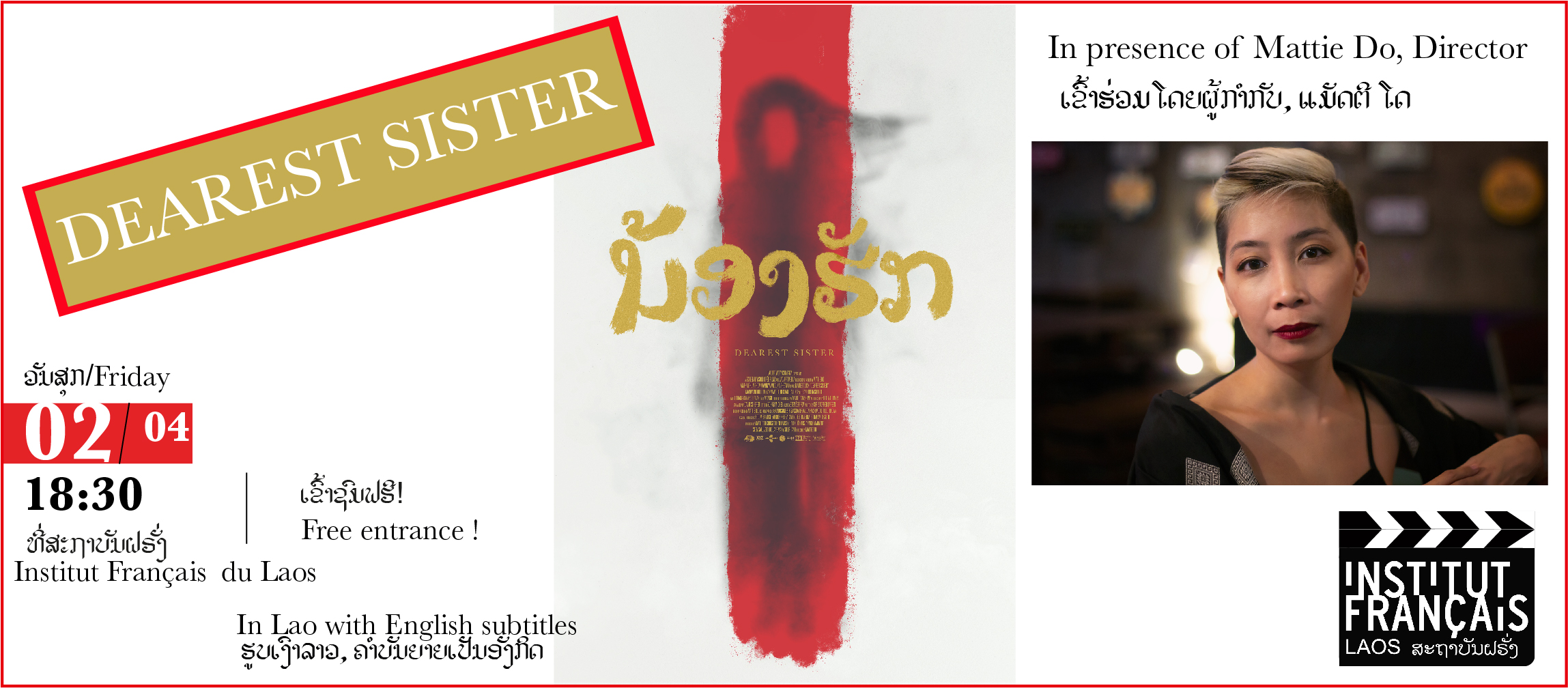 02/04/2021 | 18 h 30 - 20 h 00
After the recent release in Vientiane of Mattie Do's 3rd film, The long walk, the Institut français is happy to present her second film "DEAREST SISTER", which many filmlovers have missed. A rare opportunity to watch this horror film in presence of the director! First come First served basis (105 seats). Friday, 2/04 at 6:30pm.
MATTIE DO
Born to Lao refugees, Mattie was raised in Los Angeles, but returned permanently to Laos a decade ago. Her debut film, Chanthaly, was the first Lao film to screen outside of SE Asia. Chanthaly's festival success led to Mattie's selection for the Cannes' Fabrique des Cinémas du Monde, TIFF's Directors Talent Lab, Berlinale Talents, and BIFAN's Fantastic Film School. Afterward, Mattie worked with the Ministry of Culture to create the infrastructure necessary to introduce foreign co-production to Laos, including a framework for managing the country's rigid censorship. Mattie produced Laos' first American and Japanese co-productions. Her second film, Dearest Sister, received Special Jury Mentions at Sitges and Fantasporto, and was later selected as Laos' first submission for the Foreign Language Film Award at the 90th Academy Awards. Her third film, The Long Walk, premiered in the Giornate degli Autori at the 76th Venice Film Festival in 2019. Mattie Do is Laos' first, and only, female filmmaker.
Synopsis :
The film is about a Lao village girl who travels to Vientiane to care for her rich cousin who has mysteriously lost her sight, and somehow gained the ability to communicate with the dead. Matters are further driven by the cousin's ambivalent marriage with an Estonian white migrant, who has his own dark secrets to hide.
br>
Emplacement
Institut français du Laos
http://www.if-laos.org
info@if-laos.org
Tel : (856-21)215764
Fax : (856-21)215766